Padel tennis, also known as padel or paddle, is a sport that is incredibly popular in many countries.
It is very similar to traditional tennis as a rulebook and is played by two teams consisting of two elements within a narrow, side-bounded court. It is a sport that first started out entirely as an amateur sport, but over the years has grown by leaps and bounds from a competitive standpoint as well.
The reasons for the success of padel and the speed with which it is spreading around the world lie in its playability characteristics for all age groups and regardless of gender. Padel can really be practiced by everyone and also, a not insignificant component, requires minimal expense.
What are the origins of padel and how did it expand?
That the birth of padel can be attributed to the inventiveness of Mexican millionaire Enrique Corcuera no one has any doubts today.
In 1969 the Acapulco businessman, passionate about racket sports such as "frontón" and "tennis." adapted a space outside his house to play, making masonry walls and wire mesh to prevent the thick vegetation attached to the house from encroaching on the field and, at the same time, preventing the ball from ending up on the neighbor's property. Today, one can recognize this "home" facility of the time as the precursor to a real padel court.
The entrepreneur said it turned out to be fun to see that when the ball crossed the defensive line and bounced into the back wall, players would literally wait for the rebound to continue playing. This, in time, originated the new game somewhere between squash and tennis, which we now call paddle, padel or padel tennis.
Corcuera thus became, unknowingly, the father of the sport, which in a very short time went outside Mexican borders to find strong expansion first in Spain, then in Argentina in the 1980s, and finally in America, Brazil, and in recent years in Europe as well.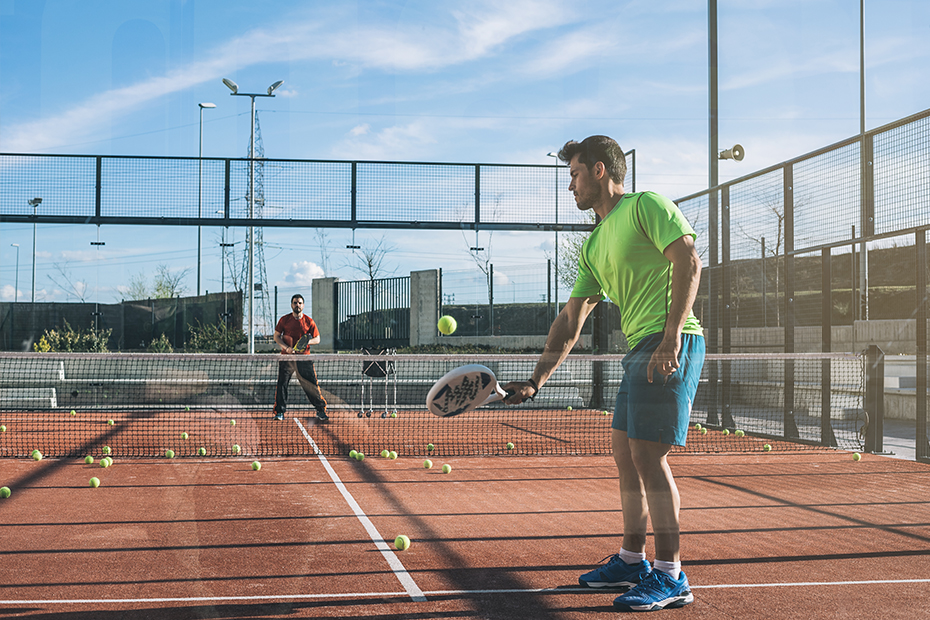 We mentioned that Italy, too, is now at the forefront of the success of this sport that really succeeds in uniting and bringing people together, assisted also by the possibility of being able to practice it in a limited space. The first Italian Padel Game Federation was founded in February 1991 by a few enthusiasts who had the intent to promote padel in our country. The activity was so successful that several other sports associations also joined the cause and promoted paddle with C.O.N.I. regulations.
The first Italian padel champion was Gianluca Baldi, a member of the Bologna Padel Sports Association. Italy also participated in the Spain '92 World Cup, achieving eighth place in the men's field.
In 1994, the first padel court that could be dismantled and therefore transported anywhere was inaugurated and installed at a famous tennis club on the Riviera Romagnola. Also in the same year, Italy participated in the final stage of the Padel World Cup in Argentina, obtaining ninth place. But the first real big success for Italy came in 2001, when they became vice European champions in Sabadell, Spain, winning against Austria, Belgium and France.
Paddle gained final recognition from the C.O.N.I. in 2008, which included it within the framework of the Italian Tennis Federation.
To date, there are at least 12 million players worldwide distributed in 78 countries, although there are only 34 National Federations recognized by the International Padel Federation and, therefore, the road to admission to the Olympic Games still seems long. However, the numbers provide us with excellent growth prospects for a sport that is truly open to all without any distinction between professionals and amateurs.
What links Canobbio Textile and padel tennis?
Canobbio Textile, with more than 70 years of experience in textile and sports covers, is participating as an international player in the development of various roofing solutions for the padel playing area, offering a turnkey service for pressostatic roofing, with glulam arches, iron structures and with innovative solutions by mixing various materials.
The best solution in this field is the GLULAM PADEL, which consists of a wooden supporting structure made of glulam columns and arches with bracing. We have implemented two major projects of Glulam Padel Mono e Glulam Padel Multiple and are working on the installation of a new cover for 4 courts 26mt x 52 mt in Bracciano, complete with:
Double membrane
Reinforced sliding side walls
heating systems
Design
Mounting
In addition to standard and customized padel court cover solutions, we can provide different solutions depending on the customer's taste, installation location and level of play.
Contact us
without obligation!