After covering their features and benefits, we deal in this article with the use of shade structures: that is, where they are used, whether in small settings such as a home garden or terrace, or in public settings such as outdoor outlets and commercial cities.
As forhome use, so-called "shade sails" are the ideal solution for having a covered design space in the garden, on the terrace, or by the pool.
Shade sails for domestic use
The outdoors is usually the place dedicated to home relaxation par excellence, which is why it needs to be as comfortable and practical as possible.
Shade structures make it possible to shelter large or small portions of outdoor space from direct sunlight where, for example, you can sip an aperitif, read a book or simply relax while observing nature.
Generally, when opting for shade sails, the main choice one faces is between fixed shade structure and roll-up shade structure.
Roll-up shade tensile structures allow for an even greater degree of versatility due to the full or partial canopy closure system. However, they are particularly suitable for small spaces.
Fixed shade sails are, on the other hand, characterized by a more attractive design, as the furling system is not present. They are designed to be used in all seasons, being extremely resistant to sunlight and weathering.
These shade systems also provide some design freedom as shade sails are available in various geometric shapes: square, triangular and rectangular.
For these reasons, fixed cover models are perfect for very large areas where there is a need to shade for long and continuous periods, thus being particularly suitable for stores, solariums and public places.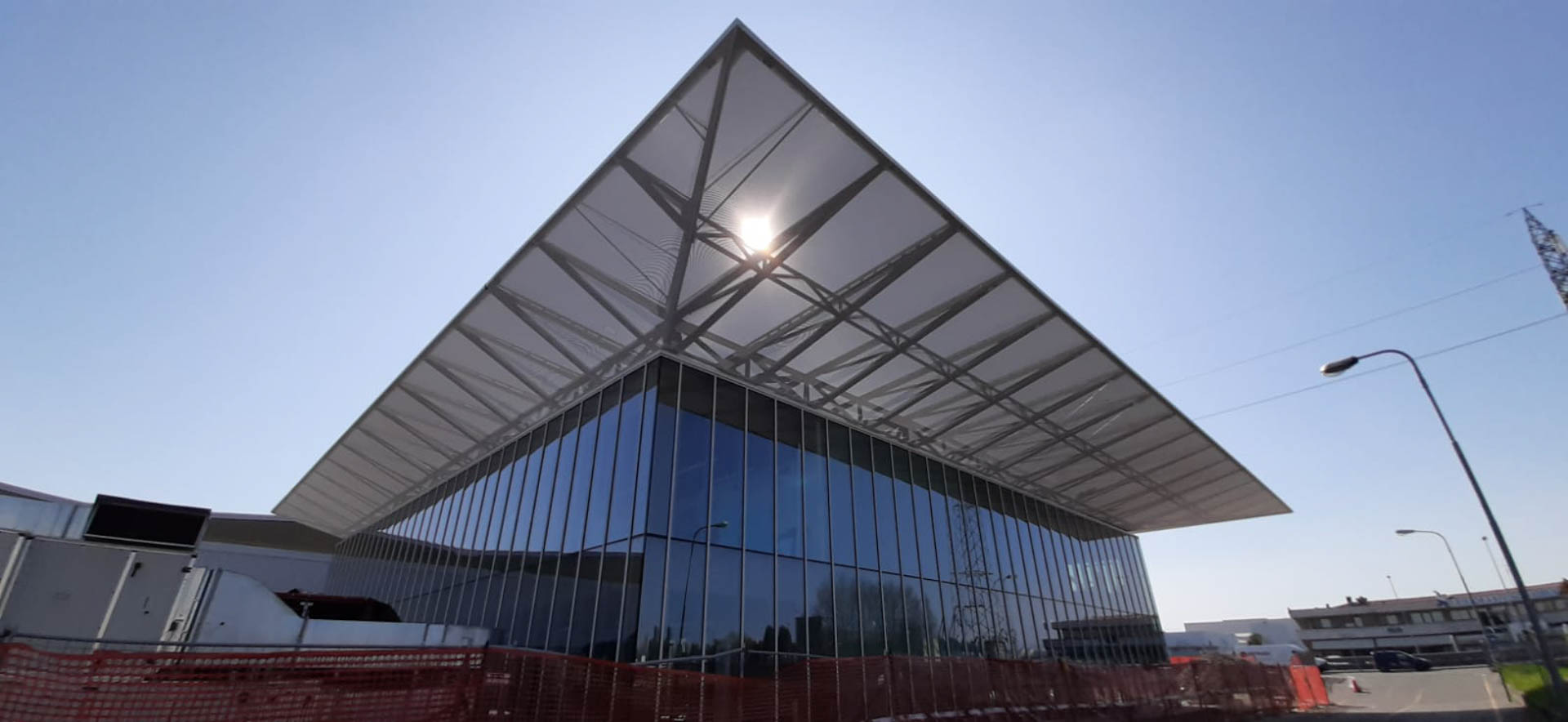 We thus enter the second macro area of use of shade structures, related to public environments.
Shade sails for public places
Shade sails are an ideal solution for outdoor outlets and retail parks because of their ability to create adequate shade while maintaining good ventilation of the area in which they are placed. In fact, unlike waterproof covers, shade covers are breathable and as a result are much more resistant to wind stresses because the fabric is not an obstacle.
They are also very resistant to weather, wear and tear and even saltiness, making them suitable for spaces near the sea.
Not to mention another use of shade structures: car cover.
A shade cover can be the ideal solution against the damaging action of UV rays and against all those potential dangers every car faces when parked without proper shelter.
It therefore finds wide use both in the private sphere, perhaps attached to a canopy or a special structure, and in the public sphere, for example used as the covering of special parking spaces outside truck stops, shopping malls or camping areas.
The shade sails made by Canobbio Textile.
Canobbio Textile specializes in the fabrication of shade tents, which are designed and installed by our experienced textile membrane technicians.
One of these is the shade tensile structure at the Maria Santissima Assunta LUMSA University in Rome, designed by Arch. Vittorio Petrucci, to protect the building's elliptical void, which was desired by the client to create a protected space functional for both student reception and gathering.