Shading structures are lightweight, colorful, functional, and elegant solar shading solutions that aim to cover a larger or smaller outdoor space, protecting it from the weather and making it pleasant and livable.
The peculiarity of shade structures is their ability to create shaded areas by reducing the temperature in the area below without, however, obstructing the passage of air.
Whether it is the backyard of a home, the terrace of a café, the grounds of an event villa, or a shopping mall, shade structures offer unique advantages, both in terms of design and technical performance.
What does a shade structure look like and what benefits does it offer?
Shade tensile structures usually consist of a perforated mesh membrane.
They may be simple triangular or rhomboidal shapes finished perimetrically with cables or coated tapes, welded on the main tensioned membrane, reinforced with double layer fastened on the corners, fixing plates and tensioning systems.
Or they can be much more complex forms where the engineering level of the roof requirescompanies with specialized departments, from business consulting to feasibility studies, from static calculation of the form by the engineering department to laboratory testing of fastening details.
One of the main technical features of shade structures is the ability of the fabrics used to resist UV rays, offering protection to those beneath them. In addition, these fabrics are processed with special treatments that can protect them from external weathering, ensuring their durability without the need for periodic maintenance.
The choice to install a shade tent often depends on its versatility and ability to adapt to any type of outdoor space related to different needs.
In addition, unlike other types of outdoor roofing that are very bulky and unsightly , shade tents minimize the load-bearing structure while providing ample coverage without being "heavy" or ruining the aesthetics of the place where they are installed.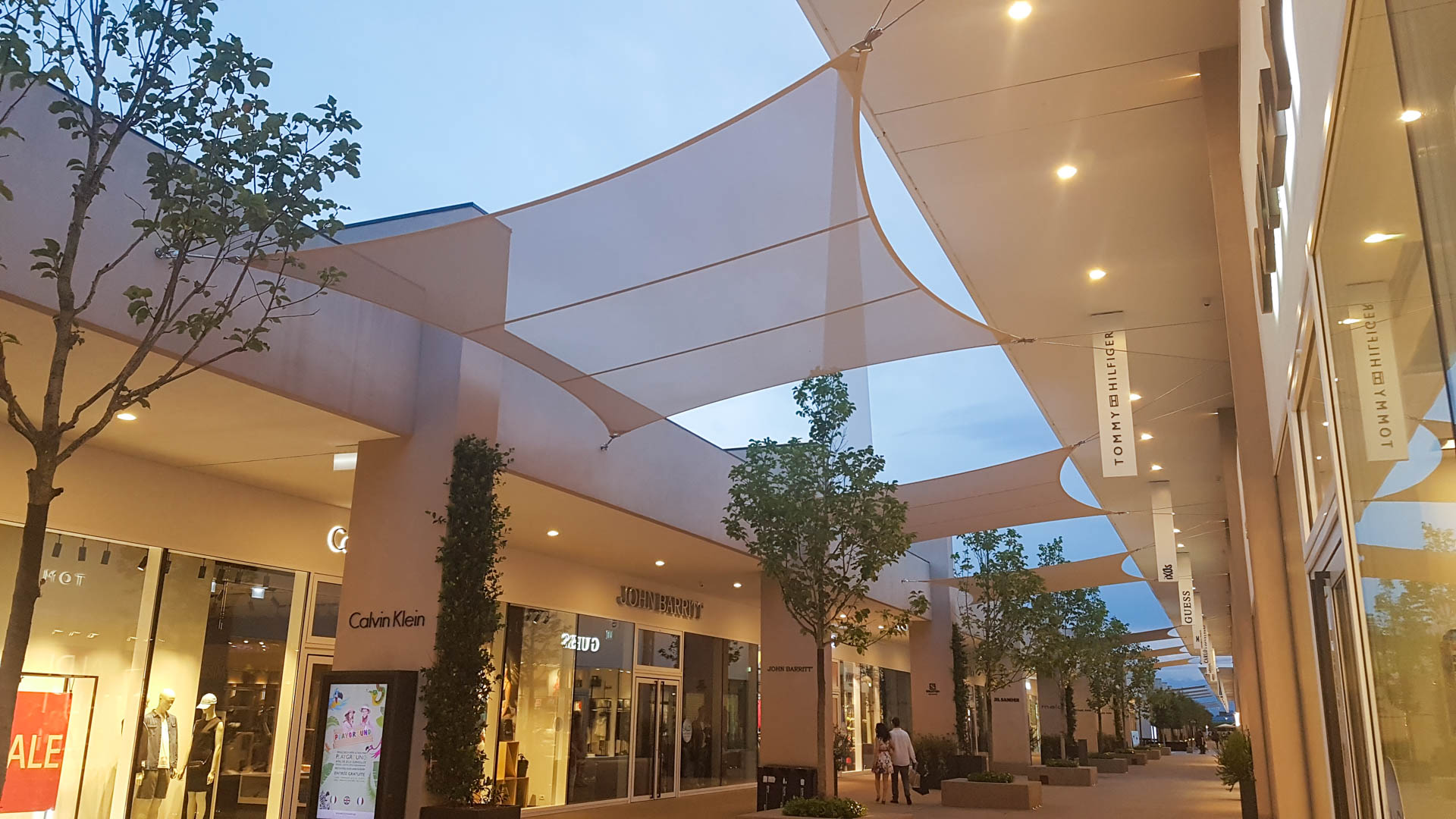 Shade structures installed by Canobbio Textile.
Our company is specialized in making shade tensile structures, which are designed and erected by our experienced textile membrane technicians.
We have dealt with a great many shade structure designs for University e shopping centers, including the veil of the Serravalle Designer Outlet , which with its 250 stores and 5,000,000 visitors a year is thelargest outlet in Europe.